Commodities continued to dominate monthly returns for major asset classes in March. The leadership marks the third month in a row that commodities have outperformed the rest of the field by a wide margin, based on a set ETFs by proxy.
The WisdomTree Enhanced Commodity Strategy Fund (GCC), a broad commodity metric, rose 7.5% last month. Year-to-date, GCC is up 21.3%, marking a major outlier upside performance so far this year for major asset classes.
A strong second place in March: US real estate investment trusts (REITs), which rebounded from a weak start to the year. Vanguard US Real Estate (VNQ) jumped 6.3%, the first monthly gain for the ETF in 2022.
US stocks also posted a solid gain in March via Vanguard Total US Stock Market (VTI), which climbed 3.3% for the month just ended.
Overall, most major asset classes lost ground – again – last month. Biggest loser: foreign government bonds in developed markets. SPDR Bloomberg Barclays International Treasury Bond ETF (BWX) fell 4.2% in March.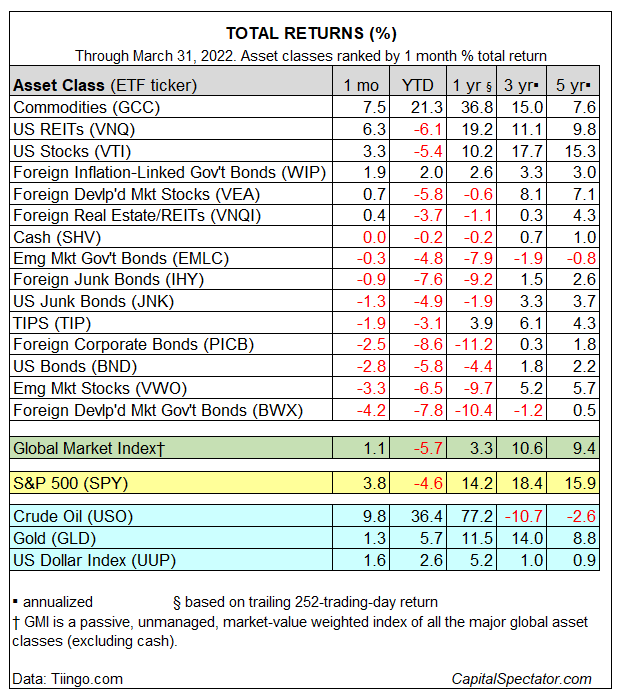 The Global Market Index (GMI) rebounded in March. This unmanaged benchmark (maintained by CapitalSpectator.com), which holds all major asset classes (except cash) in market value weightings, rose 1.1% – the first monthly gain of This year.
Looking at GMI's performance against US stocks and bonds over the past year continues to reflect strong average performance for this multi-asset class benchmark (blue line in chart below) . US stocks (VTI) gained just over 10% for the one-year window. In contrast, a large measure of US bonds – Vanguard Total US Bond Market (BND) – fell 4.4%. GMI gained 3.3% for the year ended March 31.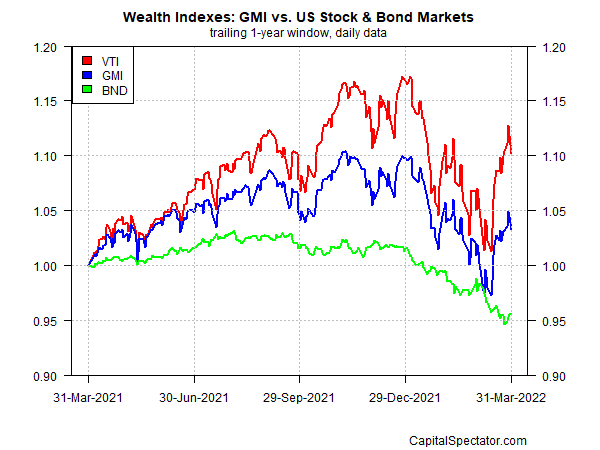 Original post
Editor's note: The summary bullet points for this article were chosen by the Seeking Alpha editors.