As risk aversion messages roll in, markets couldn't be clearer in June. Losses weighed on every tranche of major asset classes, based on a set of proxy ETFs. Even the money took a hit, albeit a tiny one.
The sell-off took its toll last month, with foreign stocks in developed markets falling the most. Vanguard Developed Markets (VEA) lost 9.2% in June, leaving it in the red nearly 19% since the start of the year.
US equities (VTI) have suffered almost as much, and for 2022 the loss for US equities exceeds 21%. US bonds (BND) are taking lesser losses, but by fixed income standards, it's fair to say that everyone's favorite safe haven looks decidedly risky this year via a 10.3% decline since the start of the year.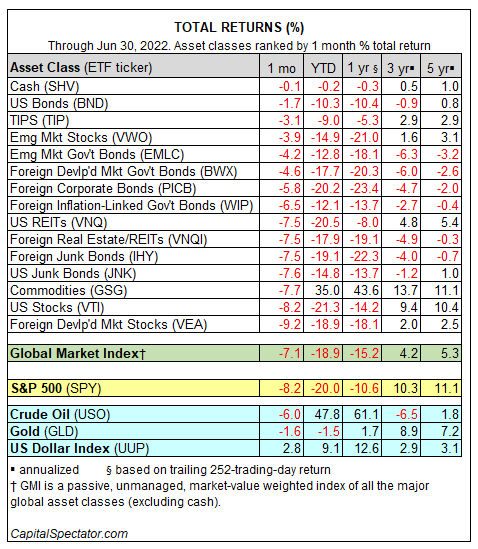 Comparing GMI's performance with US stocks and bonds over the past year shows that bonds (BND) are providing some ballast recently, at least in relative terms – an attribute that was previously insufficient for 2022.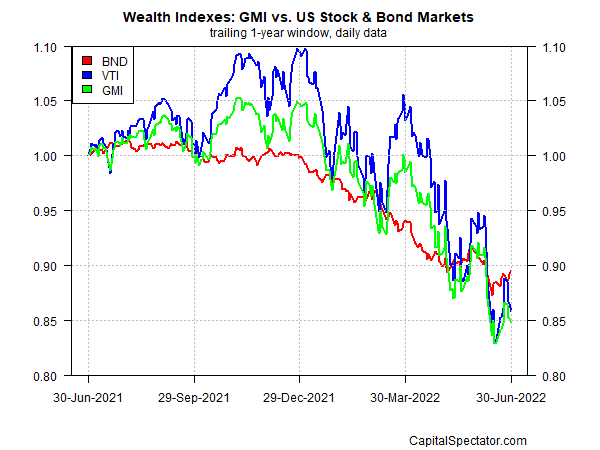 Original post
Editor's note: The summary bullet points for this article were chosen by the Seeking Alpha editors.