US real estate stocks were the big winners for major asset classes in December and for 2021 overall, based on a set of ETFs. Although several risk asset segments rallied last month and for the year, the real real estate investment trusts (REITs) have left the competition in the dust.
Vanguard US Real Estate (VNQ) jumped 9.5% in December, leading to a broad rebound in global markets after the previous month's rout. Last month's rally took VNQ to an all-time high and helped propel the fund into the top spot for 2021 performance – a total return of 40.5%.
Although US REITs stole the show in terms of performance among major asset classes last year, 2021 was still good for risk assets in general. The second-best performer in 2021: US stocks via the Vanguard Total US Stock Market (VTI), which are up 25.7% over the past 12 months.
Commodities also had a strong year. The combination of a global economic recovery and a sharp rise in inflation helped push the WisdomTree Enhanced Commodity Strategy Fund (GCC) up almost 20% last year.
Fixed income securities were the main losers in 2021. The biggest setback: bonds issued by emerging market governments. VanEck Vectors JP Morgan EM Local Currency Bond (EMLC) fell 9.7% last year.
A notable exception to the bearish bias for bonds in 2021: inflation-linked Treasuries. The iShares TIPS Bond ETF (TIP) has risen nearly 6% over the past year, providing a remarkable counterpoint to generally lower bond prices elsewhere.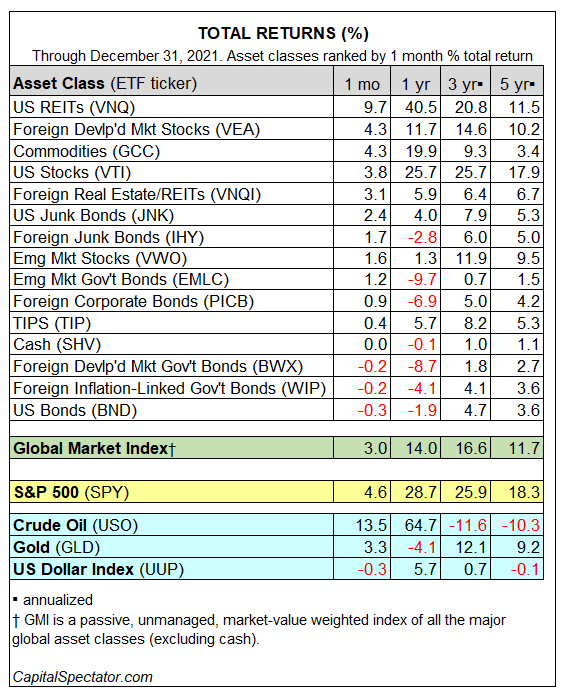 The Global Market Index (GMI) posted a strong 14.0% total return for 2021. This unmanaged benchmark (maintained by CapitalSpectator.com), which holds all major asset classes (at the excluding cash) in market value weightings, ended the year slightly below a record high.
Examining GMI's performance against US stocks and bonds over the past year reflects a robust average performance for this multi-asset class benchmark (blue line in chart below). US equities (VTI) have gained nearly 26% in 2021. In contrast, a large measure of US bonds – Vanguard Total US Bond Market (BND) – has lost ground for the past year, in down 1.9%.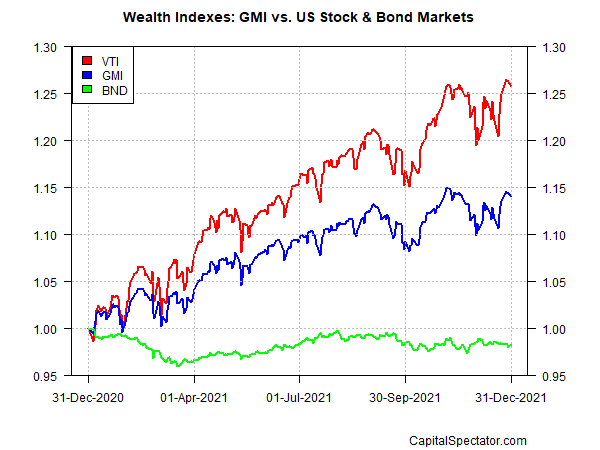 Original post
Editor's note: The summary bullet points for this article were chosen by the Seeking Alpha editors.