Main asset classes: April 2022 performance review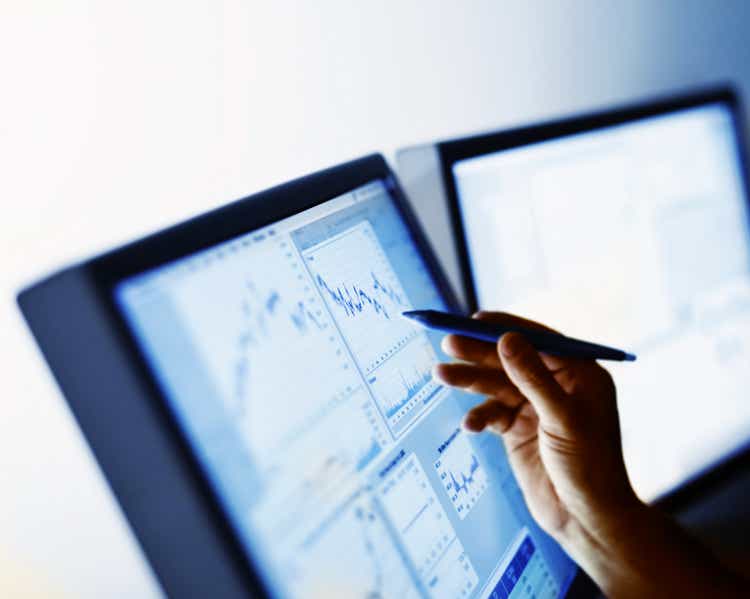 Red ink spread across nearly every slice of the major asset classes in April. Commodities were the exception, posting a solid gain. Otherwise, losses prevailed, based on a set of ETF proxies.
In particular, it is the same history for year-to-date results following last month's losses. Everything But Commodities is down so far in 2022, with double-digit slips accounting for half of the declines.
The outlier on the rise: iShares S&P GSCI Commodity-Indexed Trust (GSG), which rose 4.5% last month and is ahead more than 38% in 2022. For globally diversified portfolios , commodities are the main (and in some cases the only) source of ballast for an increasingly bearish year. A second distant source of stability: cash (SHV), which was stable in April and slightly lagged since the start of the year.
The biggest loss of the past month: US stocks (VTI), which fell 9.1% in April and are in the 14% hole since the start of the year.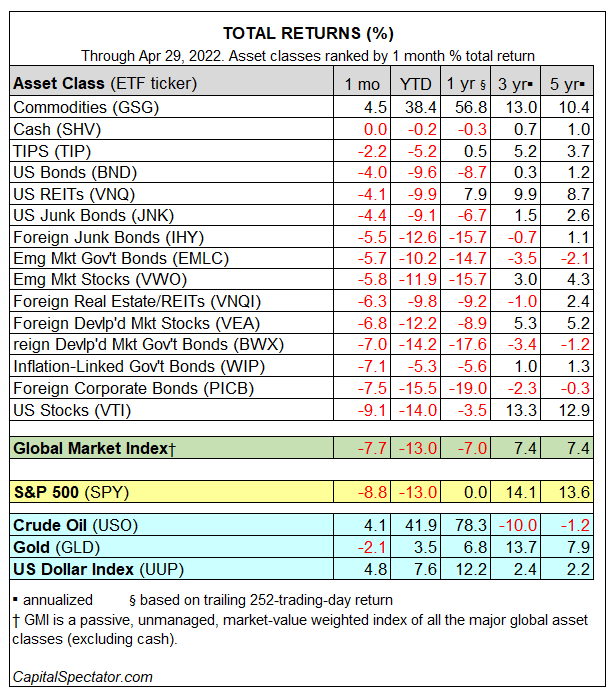 The Global Market Index (GMI) resumed its decline in April. This unmanaged benchmark (maintained by CapitalSpectator.com), which holds all major asset classes (except cash) in market value weightings, fell 7.7% last month and is in down 14% so far for the year.
Looking at GMI's performance against US stocks and bonds over the past year continues to reflect average performance for this multi-asset class benchmark (blue line in chart below). US stocks (VTI) lost 3.5% for the one-year window. A large measure of US bonds – Vanguard Total US Bond Market (BND) – lost even more, falling 8.7%. RMG was down 7.0% for the year to the April close.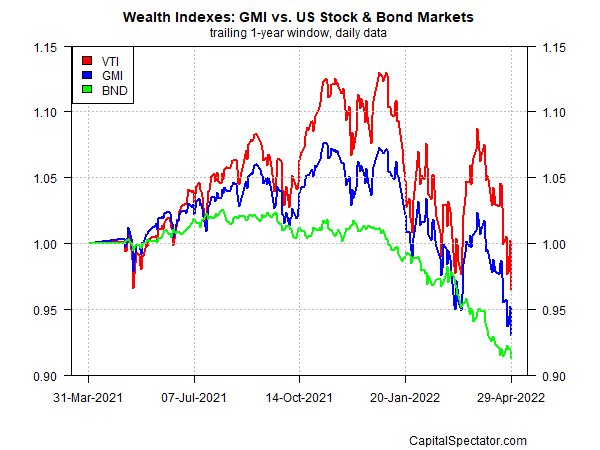 Original post
Editor's note: The summary bullet points for this article were chosen by the Seeking Alpha editors.