How the Pandemic Really Impacted CRE Asset Classes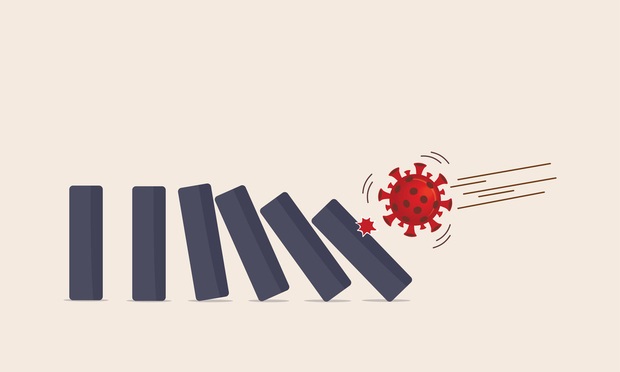 Just two years ago, more than 20 million people were losing their jobs at the onset of the COVID pandemic. Businesses were scrambling to transition their workforces to remote work, toilet paper was relentlessly in short supply, and the outlook for in-person businesses was bleak at best.
Now people are heading back to the office – and to gyms, movie theaters, restaurants and just about everywhere else. And that bodes well for some CRE asset classes more than others, according to Marcus & Millichap's John Chang. The United States has replaced 95% of the jobs lost at the start of the pandemic and Chang expects a return to pre-pandemic levels this summer. Retail sales are also 27% above pre-pandemic levels, while household savings are at an all-time high.
"In just two years, we've gone from a very bleak and uncertain future to a relatively stable positive outlook," Chang says. "Yes, there is a lot of noise about inflation, interest rates and the possibility of a recession, but the momentum is very positive."
For CRE, "we are in one of the most interesting phases of the cycle," says Chang. "Each type of property faces its own unique reality and its own unique opportunities."
Industrial properties have been basically untouched by the pandemic, with vacancy rates at historic lows and demand high. Apartment vacancy rates are also at an all-time low, and while demand for self-storage has taken a hit, it has also increased, with vacancy also near an all-time low.
Meanwhile, retail had a "split reality" as sit-down restaurants and experiential retail were hit hard and struggling chains closed – but necessity retail like grocery stores thrived and rates vacancy rates are pushing back to pre-COVID levels.
Hotels "took it on the chin" but are enjoying a strong recovery, and Chang says he predicts a strong recovery in occupancy this summer. Senior housing will face a long cycle of recovery as the industry adjusts to a new post-pandemic operating climate, and finally there are offices. Chang says we should see stronger demand for space as restrictions ease and people return to work.
"We're not completely out of it yet, but the momentum has shifted to the positive," Chang says.