Equities in developed markets outside the United States outperformed last week's returns, based on a set of exchange-traded funds. All in all, it has been a mixed week with a wide range of wins and losses.
Biggest Winner: Vanguard FTSE Developed Markets Index Fund ETF Shares (NYSE 🙂 rose 1.0% during the trading week through Friday August 6. This increase marks the third consecutive weekly gain, bringing the fund to an all-time high.
Within the non-US equity space, the recent uptrend behavior of VEA is a clear relief from emerging markets. Over the past six months, the VEA has increased by around 10% compared to a loss of nearly 5% for Vanguard FTSE Emerging Markets Index Fund ETF Shares (NYSE 🙂 during this period.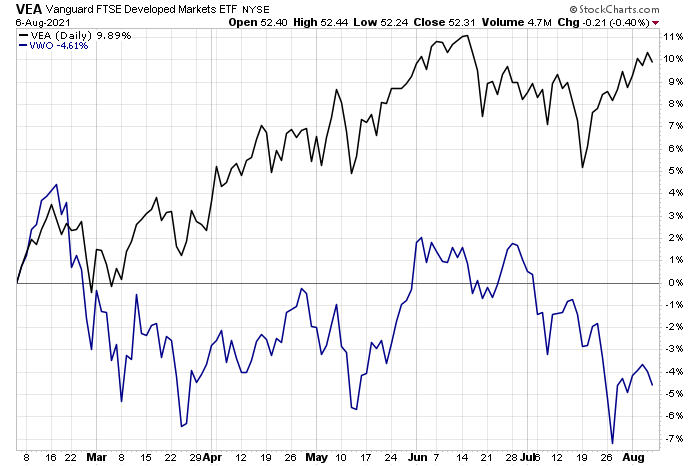 The biggest loser of the last week: commodities at large. The WisdomTree Continuous Commodity Index Fund (NYSE :), which equally weight a diverse mix of commodities, fell 2.2%. The slide marks the first weekly loss for the ETF in four weeks.
An ETF-based version of the Global Markets Index (GMI.F) rose 0.6%. This unmanaged benchmark (maintained by CapitalSpectator.com) holds all major asset classes (except cash) at market value weights via ETF proxies.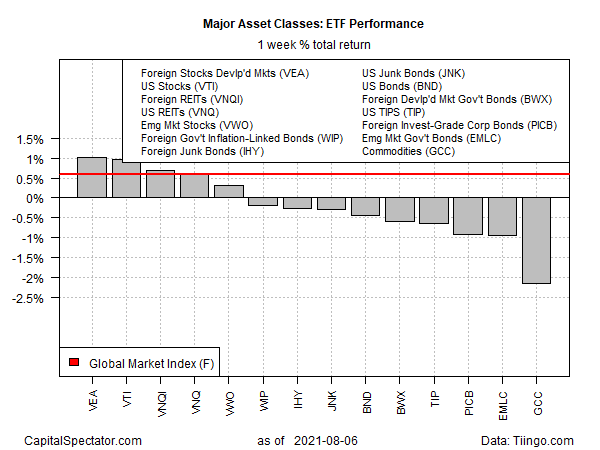 For the one-year window, US stocks continue to lead by a hair's breadth. Vanguard Total Stock Market Index Fund ETF Shares (NYSE 🙂 is up 36.9% on a total return basis over the past 12 months. That's slightly ahead of the second best performer in a year: Vanguard Real Estate Index Fund ETF Shares (NYSE :), which is up 36.5% from a year ago.
Vanguard Total Bond Market Index Fund ETF (NASDAQ 🙂 stocks, as well as government bonds from foreign developed markets via SPDR® Bloomberg Barclays International Treasury Bond ETF (NYSE :), are currently the only one-year losers for the major asset classes. . ETFs are down 1.5% and 1.2%, respectively, for the latest 12-month window.
GMI.F's one-year gain was solid 23.9%.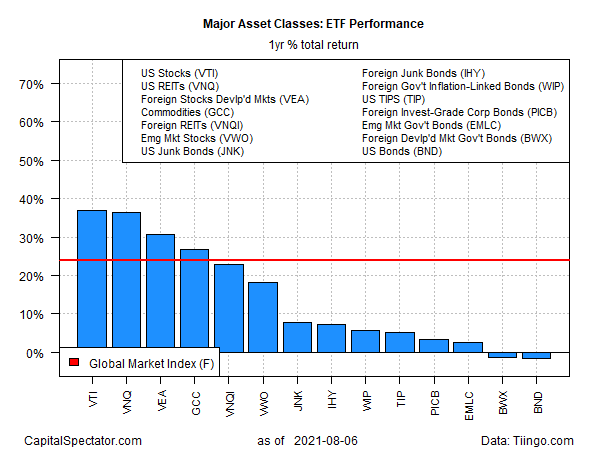 Ranking the major asset classes with the current draw still shows that most of our proxy ETFs are currently experiencing peak to trough declines of no more than -5%. US stocks (VTI) are currently leading this measure with a 0% drop from peak to trough at Friday's close. Meanwhile, commodities (GCC) show the strongest drawdown: slightly above -30%.
GMI.F's current drawdown is -0.2%.