A "modest deceleration" underway for multifamily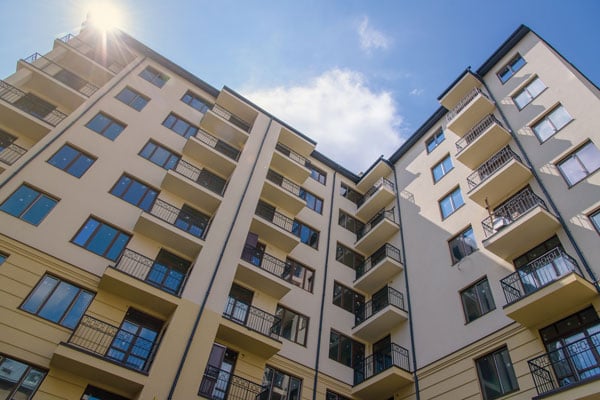 A so-called "modest deceleration" is underway for the multi-family sector, with net absorption of around 21,000 units nationwide in the third quarter.
According to Moody's Analytics, net absorption is still "particularly low" compared to 84,040 units in the first half, an average of 42,020 units per quarter. New construction deliveries hit less than 12,000 units and the national vacancy rate fell 10 basis points to end the third quarter at a five-year low of 4.4%. Asking rents also increased by 1.6%.
Metro-wide, multi-family vacancy rose 19% (or 15 of 79) major US markets analyzed by Moodys, ten more than last quarter. On a rolling 12-month basis, the list of metros with rising vacancy rates tripled, led by Buffalo.
"While still historically robust, rent growth appeared subdued compared to the meteoric growth established a year ago," the Moody's report noted. "The likely culprit: Affordability issues are finally squeezing the budgets of some households. mid-2022, and was 10.2% (10.6% effective) in this quarter."
Yet offices and retail are worse off. The former has seen the vacancy rate hover at 18% since the start of 2021, and although net absorption increased in June and July, "the trend was short-lived as economic uncertainties put pressure on the fundamentals of the sector.
Total net absorption at the end of the third quarter was less than a leap in total construction deliveries and vacancy remained at 18.4%, near its pandemic peak. Boston, San Francisco, Houston and St. Louis all lost more than 1 million square feet in demand this year.
And as with retail, "performance is caught in a push-pull dynamic between pent-up demand and heightened inflationary pressure," according to Moody's. "Our data shows that national vacancy for neighborhood and community shopping centers was flat at 10.3% year-over-year, while asking/effective rent was virtually unchanged in Q3. Center trend data regional and super regional malls tell a similar story Vacancy rose 10 basis points to 11.1% and effective rent rose 0.1% this quarter Despite some signs of stabilization, properties in regional malls continue to be the most risky retail subtype according to our commercial mortgage default data, and are driving overall delinquency behavior among retail assets.